︎ my name is amelian, like a $1,000,000 dollars.
i am:
︎ the founder of Sisters With Invoices™
︎ a painter ( --> that's me with my work at FEELS circa 2018, via The Fader photographed by Mancy Gant )
︎ a creative director
︎ a consultant and coach
︎ a wardrobe stylist + designer
︎ a critic, writer, voice
︎ a forever sartorialist
︎ a empath psychic clairsentient
︎ a home/studio organizer ( think marie kondo but blasian and ready to get down n' dirty )
︎ a DJ - catch my show Always In My Feelings on Lower Grand Radio
︎ a karaoke therapist! down to sang those emotions away anywhere, anytime, anyplace.
︎ currently reading:
Drug Use For Grown Ups, Chasing Liberty In The Land Of Fear by Dr. Carl Hart
Sisters With Invoices™ (SWI) is an intersectional spiritual safe space that provides knowledge, healing, community and economic empowerment resources for freelance marginalized creators, critics and healers of color in the arts & entertainment industry.

SWI was founded in 2018 in response to the varying levels of industry exploitation i experienced behind and in front of the camera over the past decade. first, as a model at the hands of ADIDAS and JEREMY SCOTT a global marketing campaign, in which i did not sign a release authroizing the use of my image, nor was i compensated a single penny.behind the scenes as a wardrobe stylisti experienced exploitation and business abuses that were very traumatizing.

︎ a light bulb clicked when the connection was made between the long standing systemic factors confirmed my experiences. i opened up about my battle with suicide, depression, and substance abuse at our very first SWI meeting. ︎ the clouds opened up. i can proudly say that styling made me and community saved me.
︎ SWI is committed to creating safe spaces and educating freelance QTBIPOC creatives from the substantial harm that lurks behind the scenes. there are countless stories of media abuses that many have suffered in silence for fear of blacklisting. media literacy, safe spaces and community fortify our mission to empower our belief that reclaiming media is a form of reparations.

︎illustration by Debora Cheyenne Cruchon



#WHOOPITAUGHTME is the predacessor to SWI, the catalyst behind the formation of this space, through the exploration of expression and storytelling. #WHOOPITAUGHTME came to fruition in year five of working as a wardrobe stylist for E! News. This job was a financially abundant yet extremely oppressive. I shut myself up in order to survive as a woman of color employed to a media empire that dissected women's bodies for sport with a penchant for anti blackness.

One day, in a long standing lull, complete funk as to where my life was heading I caught Whoopi on The View while channel surfing. I had to pause the show when I noticed her look, in awe of what was before my eyes, mouth agape - Black and White Polka Dot Platform Pumps worn with a pair of Black and White Striped Socks, Denim, a Crisp White Button Up Shirt and, to top it all off, a New York Knicks Jersey layered on top. It was "Eddie" meets business meets pleasure. Pure genius.

I screamed joyous expletives, excited to witness this artistry of wear. Once I looked further into Whoopi's politics and read her book I was excited yet disappointed that this prototype of strength in a womxn existed right under my nose as I watched "Bogus" in my youth. Yet, I was completely unaware of her deep sense. I felt like I was late to class, that God just put me on to greatness. The more I spiraled into her expression through footwear, the more I realized how healing it was to explore her life story.

Whoopi is an example of a womxn of color who has effortlessly figured out the art of being her true self, even if mainstream media doesn't find value in influencing more women to follow in her lead. She's a Hollywood anomaly, seemingly unafraid of hate or ridicule, comfortable in the truth that is being herself.

I am intrigued by the power of expression each of us has from the knee down. Most people don't realize how much their personality shines through choices in shoes and hosiery. Having always been obsessed with framing feet during my eight years as a wardrobe stylist, I was inspired to paint expressionist footwear.

I painted humanity, friends, musicians, kids, persons enslaved by the industrial prison complex, and friends. I found subject matter in my own vintage collection. We sang karaoke, danced.

We all have feet, we migrate. We are all on this planet figuring out how to survive. We are thrown onto this plane figuring life out on a path specifically designed for each of us. It's my hope that we can all do so with style and afford the same respect to our peers.

This video was filmed by Jess Calliero at Nous Tous Gallery circa 2016.
End footage of dressing shot by Kayla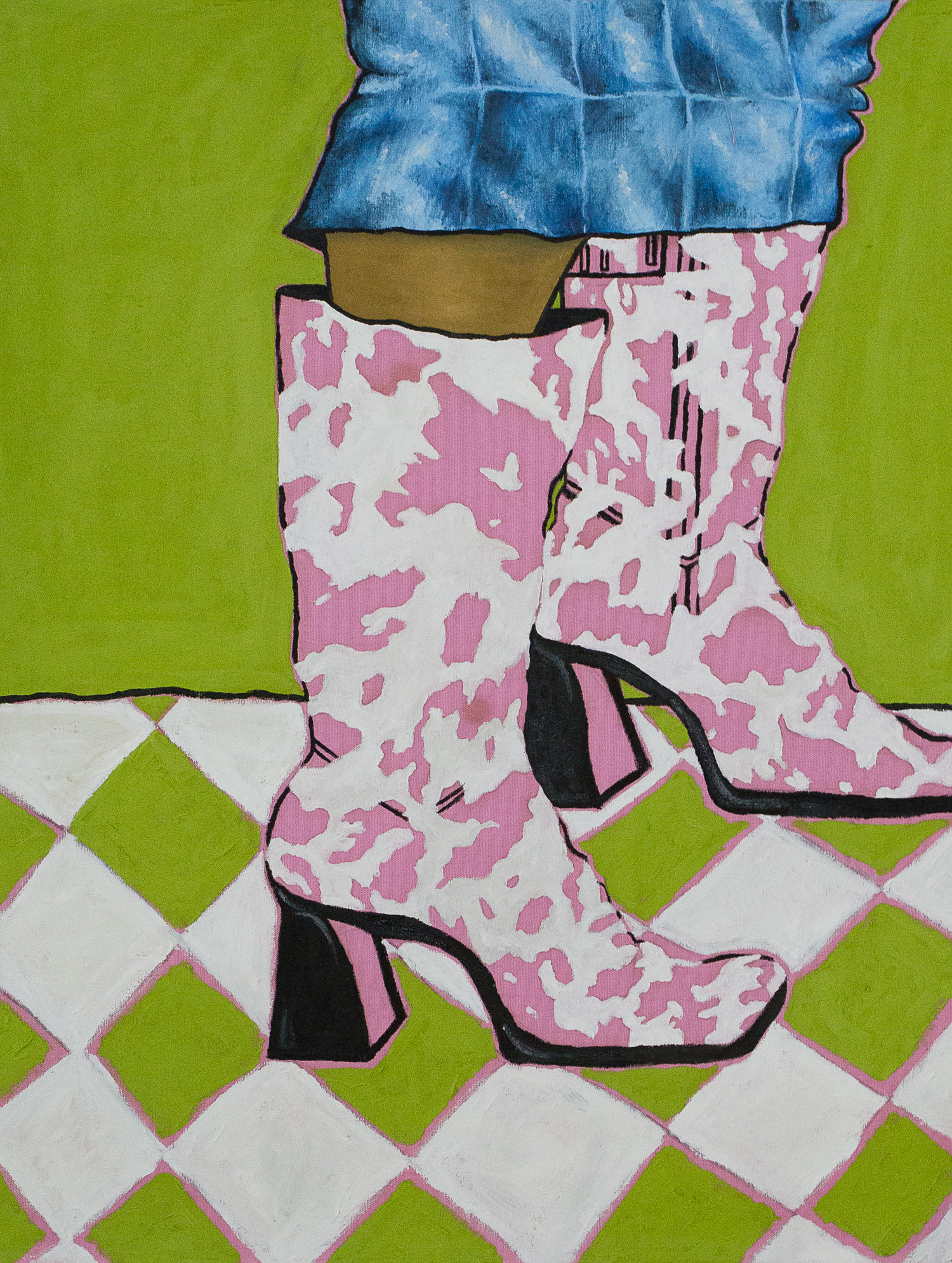 Reef